Very valuable wood components, like profiled wood, garden furniture, and windows & doors can be protected most effectively with Remmers stains that form a film! These offer easy-care surfaces for very long renovation intervals.
They offer precision and partially precision wood excellent protection against moisture ad UV radiation.
Due to the fact that they are free of biocidal ingredients, these products can be used both indoors and outdoors. Conventional stains surfaces turn darker every time a renovation coating is applied. For permanently light-coloured woods, use permanent protection stain UV and transparent UV+, also as a wearing surface, that can be renewed in case of renovation. This will slow the darkening process of the required colour considerably.

Why permanent protection stains by Remmers?
For valuable wood components
Film-forming & block resistant: also for windows & doors
With high UV protection
For extremely long durability
Permanent protection stains for outdoors and indoors
3 products found

Article No. 223401
Decorative, solvent-based medium-solid stain with very high UV protection, universal for exterior wood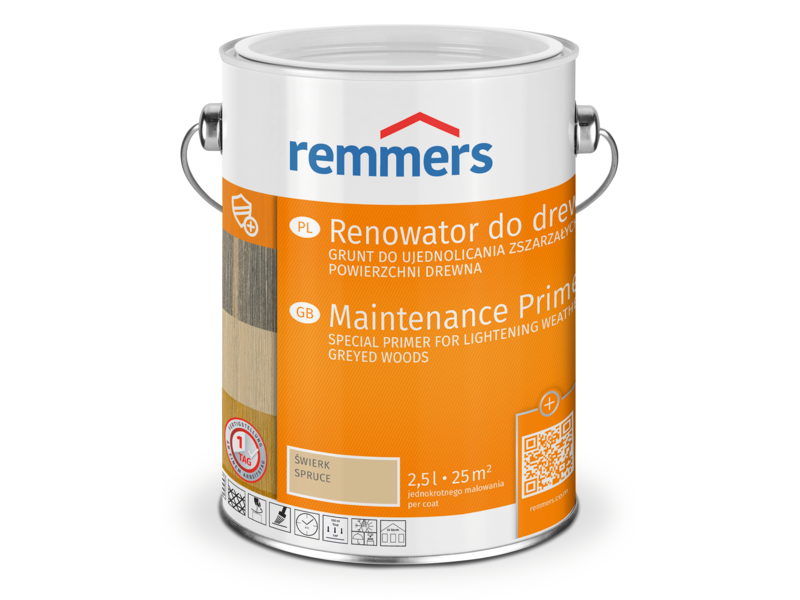 Article No. 150401
Special primer for lightening weathered and greyed woods

Article No. 767001
Water-based stain made from renewable raw materials for use on interior and exterior wood