Article No. 635905
Primer Hydro LC
Primer and bonding layer for Baseplan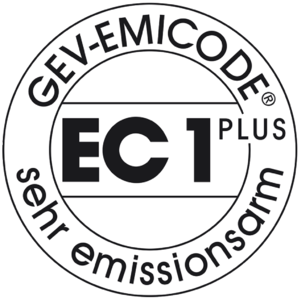 Product specifications
On delivery
Appearance
Transparent blue
The stated values represent typical product characteristics and are not to be construed as binding product specifications.
Field of application
Interiors
Primer on non-absorbent substrates, e.g. old ceramic coverings
Primer on gypsum-based or cement-based mineral substrates
Properties
Solvent-free
Quick drying
Ready to use
Excellent adhesion to non-absorbent substrates
Textured surface for optimum adhesive bonding
Preparation

Substrate requirements

The substrate must be firm, dimensionally stable, capable of bearing loads and free of loose constituents, dust, oil, grease, rubber marks and other substances that could interfere with adhesion.

Before the material is applied, the substrate must not exceed the following max. moisture contents:
- Heated and unheated cementitious substrates: max. 2.0 CM-%
- Calcium sulphate based substrates: max. 0.5 CM-%
- Heated calcium sulphate substrates: max. 0.3 CM-%

Application

Application requirements

Temperature of the material, air and substrate: from min. +5 °C to max. +25 °C

Shake the material and pour onto the surface in portions. Using an epoxy roller, distribute the material evenly and carefully work into the substrate.

Working tools / cleaning

Epoxy roller, brush

Clean tools, equipment and any splashed material immediately with water while still fresh.

Storage / shelf life

If stored unopened in its original container in a cool, dry place and protected against frost, the product will keep for at least 18 months.

Seal opened containers well and use contents as soon as possible.
Usage

Approx. 100-150 ml/m² depending on the substrate

Apply to a large enough trial area to determine the precise amount required.

Application examples

Absorbent substrates:

Dilute the material with water in a ratio of 1 : 1

Non-absorbent substrates:

Use the material undiluted



General information

The current technical regulations must be observed.

Deviations from applicable regulations must be agreed separately.

Disposal instructions

Larger quantities of leftover product should be disposed of in the original containers in accordance with the applicable regulations. Completely empty, clean containers should be recycled. Do not dispose of together with household waste. Do not allow to enter the sewage system. Do not empty into drains.

Safety / regulations

For further information on the safety aspects of transporting, storing and handling the product and on disposal and environmental matters, please see the current Safety Data Sheet.