Article No. 248105
Induline DW-610
Water-based, insulating low-build lacquer for primer, intermediate and finishing coat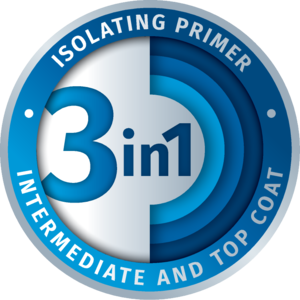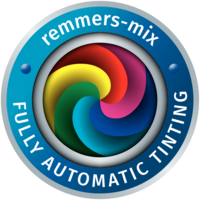 Product specifications
On delivery
Density (20°C)
Approx. 1.27 g/cm³ (base A) Approx. 1.03 g/cm³ (base C)
The stated values represent typical product characteristics and are not to be construed as binding product specifications.
Field of application
For use on exterior wood
Wood building elements with limited dimensional stability, e.g. folding shutters, matchboarding, summerhouses
Wood building elements with no dimensional stability: e.g. fences, framework, carports, planking
Primer, intermediate and finishing coats
Especially suited to spruce, fir, Douglas fir, oak, pine and larch
Properties
Easy to apply
Good flow properties
Elegant gloss yet maintains the structure of the wood (after three coats)
Water vapour diffusion capable
Film preserver protects against microbial damage
Good resistance to yellowing and chalking
Special combination of binding agents creates an extremely hard-wearing surface
Does not flake
Subsequent treatment without sanding
Preparation

Substrate requirements

The substrate must be clean, dry, free of dust, grease and loose substances, and prepared in the correct manner.

Wood building elements with limited or no dimensional stability: wood moisture content max. 18%

Preparations

Thoroughly remove any dirt, grease and non-adhering old coatings.

Sand grey and weathered wood surfaces down to sound, bright wood.

If necessary, impregnate non-resistant woods with a wood preservative* (*Use biocides safely. Always read the label and product information before use).

Observe BFS Code of Practice No. 18 "Coatings on Wood and Wooden Working Materials in Outdoor Areas".

Remove any loose and torn knots as well as resin that bleeds from the wood and clean with a suitable product (e.g. V 101 Thinner, a nitrocellulose or universal thinner).

Application

Application requirements

Temperature of the material, air and substrate: from min. +15 °C to max. +25 °C.

Stir well.

Apply by brushing or spraying.

Airless spraying: nozzle size: 0.28 mm, material pressure: 80 - 120 bar.

Airmix spraying: nozzle size: 0.28 mm, material pressure: 60-100 bar,
atomiser air pressure: 1.2-2.0 bar.

Flow cup gun: nozzle size: 1.8-2.0 mm, atomiser air pressure: 2-2.5 bar

Seal opened containers well and use contents as soon as possible.

Application instructions

Check colour, adhesion and compatibility with the substrate by setting up a trial area.

Before coating technically modified woods and wood-based materials, apply the coating to a trial surface and conduct a suitability test on the desired area of use.

Prior to full application, please apply a test coat to a sample area under practical conditions using the desired system, then test or examine the surface properties.

Ensure good ventilation.

For the best possible insulation from soluble substances in wood (surface and knots) the higher values for number of coats, application rates and drying times must be observed.
Coating with this product may activate the substances contained in the wood and discolour the paint layer. In this case these substances are fixated inside the paint layer.
The follow-up coating should ideally be carried out using a product that supports the insulating properties of this product. This will usually prevent further impairment of this top coat by the substances in the wood.
Should discolouration continue to occur despite this advice being followed, we recommend consulting Remmers Technical Service.
Bleeding resin is a natural phenomenon and cannot be prevented by coating measures, see BFS Code of Practice No. 18.
Dilution of the product, excessive wood moisture, or failure to comply with the recommended coating sequence, application rates and drying times can have a significant negative impact on the insulating effect of the product.
Intermediate sanding should go no further than smoothing the wood fibres – the primer must never be sanded away.
With water-based coating systems there is always a residual risk of bleeding of substances contained in the wood!

Do not use in direct sunlight.

Drying

Dust-dry: after approx. 1 hour
Can be overcoated: after approx. 4 hours
(at 23 °C and 50% RH)

If forced drying is used, can be overcoated: after approx. 20 minutes evaporation zone (at approx. 20 °C and 65-75% RH) / 75 minutes drying phase (approx. 45 °C, 1 m/s air circulation) / 20 minutes cooling phase

Low temperatures, poor ventilation and high humidity delay drying.

Thinning

If necessary, dilute with water (max. 5%).

Working tools / cleaning

Airless/Airmix sprayer, flow cup gun, acrylic brush

Clean tools with water or Aqua RK-898 Cleaning Concentrate immediately after use.

Ensure that any residue from cleaning is disposed of correctly.

Storage / shelf life

If stored unopened in its original container in a cool, dry place and protected against frost, the product will keep for at least 12 months.
Usage

50-150 ml/m² per coat
Brush application: 50-80 ml/m²
Spray application: 120-150 ml/m²

These values refer to sanded pine. For planed or rough-sawn wood, the values will be lower or correspondingly higher.
General information

On planed larch and softwoods with a high resin content, the coating may have reduced adhesion and resistance to weathering. This is especially the case on horizontal year rings, knots and areas of winter growth that are high in resin. Maintenance and renovation must be carried out more frequently on these surfaces.
The only remedy for this is pre-weathering or very coarse sanding (P80).
If these wood types are rough-sawn, considerably longer maintenance and renovation intervals are to be expected.

Disposal instructions

Larger quantities of leftover product should be disposed of in the original containers in accordance with the applicable regulations. Completely empty, clean containers should be recycled. Do not dispose of together with household waste. Do not allow to enter the sewage system. Do not empty into drains.

Safety / regulations

For further information on the safety aspects of transporting, storing and handling the product and on disposal and environmental matters, please see the current Safety Data Sheet.